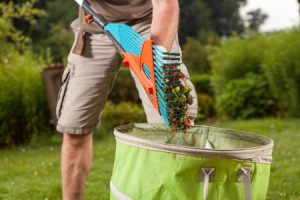 While winter is still hanging on here in New England, it's time to set our sights on what lies ahead for spring. The harsh conditions of this past season have likely left you with some work to do around your yard, and soon it will be time to get outdoors and begin your spring lawn cleanup. Preparing for warmer weather now means you won't have to waste any time when those temperatures finally start to climb.
A spring cleanup can not only prepare your lawn for the upcoming growing season, but also keep your yard looking great and promote a healthy landscape for your home. Today we'll address a few important benefits of investing in a professional spring yard cleanup.
Remove Thatch and Debris
A spring cleanup will remove all the debris Mother Nature has left behind when the snow finally melts for good. This process involves removing leaves, dead branches and other debris, which is the first step to promoting new growth in your lawn and garden.
Let your yard breathe again by power raking your grass, which removes and controls the thatch that builds up over time. Thatch can hinder the growth of your lawn, preventing you from having luxurious, green grass. Power raking is a great spring cleanup activity, as it boosts the effectiveness of watering and fertilization for the coming spring and summer.
Prepare for Growth
Getting your lawn and garden ready for the growing season is the next benefit of a spring cleanup campaign. Once spring is in full swing you can start by mowing your lawn for the first time, which not only improves the appearance of your yard but also encourages the grass to start growing again. Then, you will want to aerate the soil to nourish your lawn with oxygen, water and nutrients.
Fertilize
If you want to achieve a lush, healthy lawn this summer, then applying fertilizer in the spring is vital. A professional fertilization treatment, using time-released minerals that will feed your lawn over the course of the next several months, is perfect for your freshly de-thatched and aerated yard.
To schedule your spring cleanup, feel free to give us a call or contact us online today!