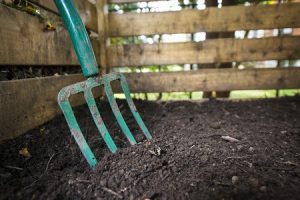 There are a number of benefits that come along with adding compost to the soil in your lawn and garden. Compost can help your soil retain moisture better, provide it with micronutrients and improve soil stability. But in order to turn leaves, table scraps and more into nutrient-rich compost, you need to follow a few simple steps first. Today we'll help you get started.
Create a compost bin and find the right location for it.
When it comes to your compost bin, you will have plenty of options. Some people prefer to buy a compost bin in a store, while others will make one out of recycled wood pallets. But no matter what you choose, your compost bin should be equipped to handle the compost you put in it. It should be placed on level ground where it can drain easily, and it should have soil underneath it to allow for worms and other beneficial organisms to make their way into the compost.
Add composting materials to your bin.
The great thing about starting a compost bin is that there are so many different things you can add to it. From leaves, straw, hay, eggshells and sawdust to vegetable and fruit peelings, coffee grounds, grass clippings, weeds and hedge trimmings, you can add so many different items to a compost bin. You should steer clear of putting meats, eggs, pet waste, treated wood and fats into your compost, but you should still have plenty of material to work with.
Layer your compost properly and wait.
Once you start adding items to your compost, you should layer them so that everything begins to break down. There are a few different ways to do this, but one way is to start with a 4-inch layer of hay, straw and brush at the bottom of the bin followed by a thin layer of garden soil and then topped with another 4-inch layer of some of the green items listed above (veggie peelings, grass clippings, etc.). You can then repeat this process based on the height of your bin. From there, you should water your compost lightly on a regular basis and turn it once every two weeks.
Need a hand with your next big landscaping project? At Brother Tree & Lawn, we offer a range of services to keep your lawn and garden looking its very best. Give us a call or contact us online today to learn more.